Program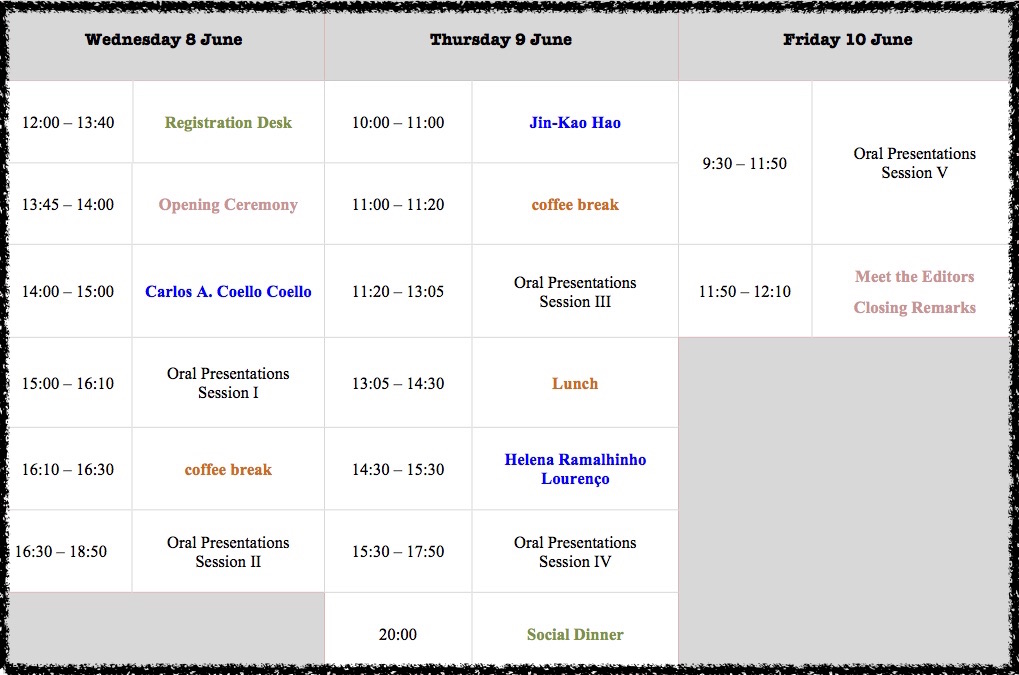 Detailed Program
Wednesday, June 8
13:45 - 14:00 Open Ceremony
14:00 - 15:00 Evolutionary Multi-Objective Optimization using Hybrid Approaches,
Carlos A. Coello Coello, CIVENSTAV, Mexico
Oral Session I — Chair: Angelo Cangelosi
15:00 – 15:35 Finding Uniquely Hamiltonian Graphs of Minimum Degree Three with Small Crossing Numbers, Benedikt Klocker, Herbert Fleischner and Günther R. Raidl
15:35 – 16:10 Construct, Merge, Solve & Adapt: Application to Unbalanced Minimum Common String Partition, Christian Blum
16:10 - 16:30 Coffee Break
Oral Session II — Chair: Günther R. Raidl
16:30 – 17: 05 Variable Neighbourhood Descent with Memory: a Hybrid Metaheuristic for Supermarket Resupply, Philip Mourdjis, Yujie Chen, Fiona Polack, Peter Cowling, Martin Robinson
17:05 – 17:40 Hybridization as Cooperative Parallelism for the Quadratic Assignment Problem, Danny Munera, Daniel Diaz, Salvador Abreu
17:40 – 18:15 Multi-chaotic Approach for Particle Acceleration in PSO, Michal Pluhacek, Roman Senkerik, Adam Viktorin, Ivan Zelinka
18:15 – 18:50 Investigating Edge-Reordering Procedures in a Tabu Search Algorithm for the Capacitated Arc Routing Problem, Wasin Padungwech, Jonathan Thompson, Rhyd Lewis
---
Thursday, June 9
10:00 – 11:00 Hybrid Methods for some Knapsack Problems: lessons learnt,
Jin-Kao Hao, University of Angers, France
11:00 - 11:20 Coffee Break
Oral Session III — Chair: Moshe Goldstein
15:00 – 15:35 Finding Uniquely Hamiltonian Graphs of Minimum Degree Three with Small Crossing Numbers, Benedikt Klocker, Herbert Fleischner and Günther R. Raidl
15:35 – 16:10 Construct, Merge, Solve & Adapt: Application to Unbalanced Minimum Common String Partition, Christian Blum
11:20 – 11:55 Districting and Routing for Security Control, Michael Prischink, Christian Kloimüllner, Benjamin Biesinger, Günther R. Raidl
11:55 – 12:30 A GRASP/VND Heuristic for a Generalized Ring Star Problem, Rodrigo Recoba, Franco Robledo, Pablo Romero, Omar Viera
12:30 – 13:05 Neighborhood Composition Strategies in Stochastic Local SearchJanniele A. S. Araujo, Haroldo G. Santos, Davi D. Baltar, Túlio A. M. Toffolo, Tony Wauters
13:05 - 14:30 Lunch
14:30 – 15:30 From ILS to Hybrid ILS ... and other extensions,
Helena Ramalhinho Lourenço, Universitat Pompeu Fabra, Barcelona, Spain
Oral Session IV — Chair: Salvador Abreu
16:30 – 17: 05 Variable Neighbourhood Descent with Memory: a Hybrid Metaheuristic for Supermarket Resupply, Philip Mourdjis, Yujie Chen, Fiona Polack, Peter Cowling, Martin Robinson
15:30 – 16:05 Hybridization of Chaotic Systems and Success-History Based Adaptive Differential Evolution, Adam Viktorin, Roman Senkerik, Michal Pluhacek
16:05 – 16:40 DEEPSAM: A Hybrid Evolutionary Algorithm for the Prediction of Biomolecules Structure, Moshe Goldstein
16:40 – 17:15 A hybrid multi-objective evolutionary approach for Optimal Path Planning of a Hexapod Robot: A preliminary study, Giuseppe Carbone, Alessandro Di Nuovo
17:15 – 17:50 Tabu Search Hybridized with Multiple Neighbourhood Structures for the Frequency Assignment Problem, Khaled Alrajhi, Jonathan Thompson, Wasin Padungwech
20:00 – 23:00 Social Dinner
---
Friday, June 10
Oral Session V — Chair: Alessandro Di Nuovo
9:30 – 10:05 Robust Berth Allocation Using a Hybrid Approach Combining Branch-and-Cut and the Genetic Algorithm, Ghazwan Alsoufi, Xinan Yang, Abdellah Salhi
10:05 – 10:40 The Capacitated m Two Node Survivable Star Problem. A hybrid metaheuristic approach, Gabriel Bayá, Antonio Mauttone, Franco Robledo, Pablo Romero
10:40 – 11:15 Dealing with the strategic level of decisions related to Automated Transit Networks: a hybrid heuristic approach, Olfa Chebbi, Jouhaina Chaouachi
11:15 – 11:50 The Higher Logic of Metaheuristics, Michael Heather and Nick Rossiter
11:50 – 12:10 Meet the Editors & Concluding Remarks
---
Instructions for Presenters
Projectors and screens will be available for all presentations. Presenters are requested to bring their own laptops.
For each speaker is allocated 35 minutes for any presentation including set-up and questions;
please, check that your computer works fine with the video projector before the beginning of your session;
please, adhere to the scheduled slot of your presentation.
Instructions for Session Chairs
Session chairs are essential to keep sessions on schedule and moderate the question period. Your main duties are:
arrive few minutes early to check the equipment set-up. Please, let the organizers team at the registration desk know if problems arise or adjustments are needed;
please follow the scheduled order of talks, as well as presentation times;
each Speaker is allocated 35 minutes for his/her presentation including questions;
moderate questions.
If a session is without a Chair, please inform quickly the organizer team at the registration desk.